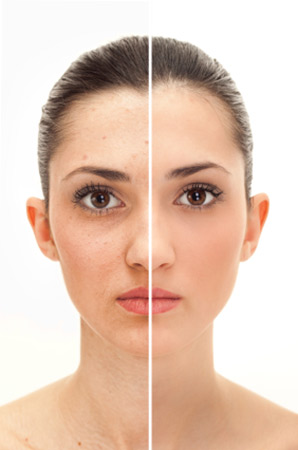 A prominent, visible scar can make a person feel self-conscious. Certain types of scars can also cause pain or restrict movement. There are solutions to minimizing the appearance and size of scars. One option is called scar revisions surgery, and there are other minimally invasive solutions as well.
In this blog, top facial plastic surgeon, Dr. Cecil Yeung will explain treatment options for scar revisions.
What Is a Scar?
A scar is the visible remains of a wound or condition on the skin. Scarring may result from infection, surgery or inflammation of the tissue. Scarring also can result from dog bites, abrasions and acne.
The body produces a scar as a natural way of healing. The scar replaces lost or damaged skin. The lasting appearance of a scar depends on:
Skin type
Location
Direction of the wound
Type of injury
A person's age
Overall physical condition
What Are the Different Types of Scars?
Acne Scars: Subtle scars. These scars don't prohibit movement or cause pain. These include acne scars, scars from a minor injury and scars from surgery.
Hypertrophic scars: Raised scar tissue at a wound site. Hypertrophic scars are sometimes red and may cause pain. Some hypertrophic scarring widens over time and becomes darker or lighter in color.
Keloids: Similar to hypertrophic scars, but larger. Keloids can cause pain, feel itchy and can have a puckered look. They develop over the edges of the original wound or cut. Keloids occur anywhere on the body, but are seen more frequently on the face, neck, ears, chest or shoulders where there is low body fat.
Contractures: Scars that inhibit movement. When the skin and underlying tissue contract during healing, the contracture scars formed can restrict movement. Contractures are common after a serious burn. Contractures may also develop where a wound is in a joint area and inhibits finger, elbow, knee or neck movement.
What Can Be Done to Repair a Scar?
The type of scar you have will affect the type of repair treatment your doctor recommends. Scars can be cosmetically improved using scar revisions surgery or by applying less invasive surface treatments.
In many cases, minimally-invasive treatments can be used to reduce the appearance of scars. In other cases, scar revisions surgical procedures are the best options.
What Are the Treatment Options?
There are surface treatments used by plastic surgeons to minimize the appearance of scars including:
Acne treatment options, such as dermabrasion, to smooth out surface irregularities.
CO2 laser skin resurfacing to change the surface of the skin allowing new, healthy skin to form at the scar site.
Steroid injections to flatten the scar and reduce inflammation.
Freezing therapy using liquid nitrogen to minimize the appearance of keloids.
Chemical peels to soften textural and color irregularities.
Skin bleaching medications applied topically to lighten the skin.
Silicone sheets used to shrink, flatten and fade hypertrophic and keloid
Dermal fillers to fill in scars that have depressions.
Where Can I Have Scar Revision Surgery in Texas?
At the Yeung Institute, top Houston facial plastic surgeon Dr. Cecil Yeung has extensive experience in scar revisions as well as emergency scar repairs. He provides surface treatments and surgical options for scar revisions. Dr. Yeung's advanced training and experience includes laser, topical and surface skin rejuvenation and minimally invasive facial plastic surgery.
If you're bothered by scarring, call us for treatment by an expert in scar revisions. Contact our office today by calling to scedule an appointment.