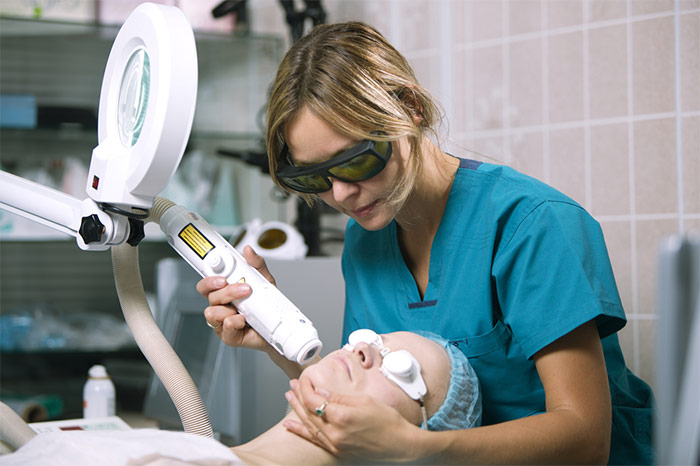 laser skin resurfacing is an excellent option to achieve that holiday glow 一 and it's one of the many nonsurgical procedures we offer at The Yeung Institute in Houston, Texas.
Here, our team, led by Dr. Cecil Yeung, explains how this cosmetic procedure can rejuvenate your skin and leave you looking your best for the holidays.
What is laser skin resurfacing?
Laser skin resurfacing doesn't use chemicals or physical exfoliants to slough away the top layer of your skin as chemical peels or facial scrubs do. Instead, fractional CO2 laser skin resurfacing uses energy waves to improve the texture, tone, and overall quality of your skin.
Because the carbon dioxide (CO2) light waves vaporize your top layer of skin, it's highly effective in treating various skin concerns, including fine lines, wrinkles, scars, sun damage, and uneven pigmentation — without harming your deeper tissues.
5 reasons to consider laser skin resurfacing this holiday season
Laser skin resurfacing is a popular treatment that can help you look and feel younger. It can:
Reduce the appearance of wrinkles
Laser resurfacing can minimize fine lines and wrinkles and provide a more youthful and rejuvenated look. It achieves this by stimulating collagen production. Collagen is the protein that provides structure to your skin and gives it elasticity and strength.
Here's how it works: When the laser energy removes your outer layer of skin, it also heats the layer underneath, called the dermis. This gentle heat stimulates collagen production. As the treated area heals, the new skin that forms is smoother and firmer thanks to the increased collagen.
Improve your skin tone
Laser skin resurfacing can help reduce the appearance of age spots, sun damage, and uneven pigmentation so you notice a more even and radiant complexion. It can even help with enlarged oil glands on your nose!
Minimize the appearance of acne scars
If you have acne scars, laser resurfacing can help smooth and reduce their appearance. This can boost your confidence, especially if you're tired of trying to cover up old acne scars.
Provide long-lasting results
While the immediate results of laser resurfacing are noticeable, the continued production of collagen following treatment means improvements can continue to develop over time. It's the holiday gift that keeps on giving!
Complement your busy holiday schedule
Depending on the type of laser we use, the recovery time can be relatively short. In other words, laser skin resurfacing is suitable for those with busy holiday schedules and requires much less downtime than plastic surgery.
Give yourself the gift of rejuvenation
Getting a holiday glow has never been easier, and it all starts with a consultation. Dr. Yeung reviews your skin type and your concerns to determine if laser skin resurfacing is right for you. We provide any pre-treatment guidelines you need that are specific to your personalized treatment package.
Ready to pamper yourself? Call us at 713-795-4885 or use our online appointment request form to get started on your holiday glow.