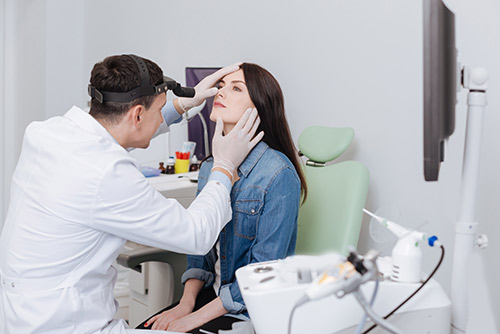 The nose is the centerpiece of the face, and it anchors all the other facial features. When your nose requires aesthetic or functional enhancements, a rhinoplasty can make your nose proportional, attractive as well as make it work better. The improved function and enhanced aesthetics usually come along with improvements to your self-confidence while relieving any nose-related breathing difficulties.
What is a rhinoplasty?
A rhinoplasty is a surgical procedure, more commonly known as a nose job, that improves facial balance regarding the proportions of your nose. You can benefit from nose surgery if you need to fix impaired breathing caused by physical defects in the nose, such as a deviated septum.
What is a rhinoplasty used for?
A rhinoplasty can:
Balance nose size relative to other facial features
Streamline the nose width of the bridge
Correct the size and position of the nostrils
Change the angle of the nose relative to the mouth
Enhance a nose profile by fixing visible bumps or filling in depressions on the bridge
Correct a nose tip that is exaggerated, droopy, upturned or hook-shaped
Fix nostrils that are broad or upturned
Correct nasal asymmetry (unmatched sides)
Fix nasal trauma
Relieve breathing difficulties
When is it recommended?
When you're dissatisfied with your nose's appearance, a rhinoplasty is recommended to make the changes you desire, because it changes the framework of your nose. Cosmetic nasal surgery can minimize a nose's appearance that's too large, bulbous, droopy or bumpy. It's also the recommended surgery if you need nostrils aligned, reshaped or resized. If you're looking to remove depressions and restore symmetry to your nose, a rhinoplasty can achieve this.
Also, if you've suffered nose trauma due to accident or injury, a rhinoplasty can repair the damage. It can also eliminate or minimize breathing difficulties related to nasal structures.
If you've had a rhinoplasty in the past, and are unhappy with the results, a rhinoplasty to revise previous surgery can correct any issues.
What is involved?
Nose surgery is done on an outpatient basis. First, you'll receive anesthesia or sedation, so you won't feel any pain during the surgery.
Next, incisions are made in certain areas based on whether you're undergoing an open or a closed rhinoplasty. In an open rhinoplasty, a small incision is made under the tip of the nose. Closed rhinoplasty has no incisions done on the skin outside of the nose. In the case of a revision rhinoplasty, which is more complex, a cartilage graft may be used to modify the internal structure of the nose.
Where can I find the best Houston facial plastic surgeon?
Dr. Cecil Yeung is a double board certified doctor in otolaryngology (ear, nose, and throat) and facial plastic surgery and is an expert in both areas. Dr. Yeung's double certification makes him uniquely qualified in performing facial plastic and reconstructive surgery which encompasses cosmetic, functional, and reconstructive surgeries to treat abnormalities of the nose.
A top Houston ENT doctor specializing in sinus surgery, Dr. Yeung has more than 20 years of experience, and he is known for his precise and meticulous surgical techniques that produce the most natural looking, long-lasting results.
Contact Us Today
Dr. Yeung and his team at the Yeung Institute are dedicated to developing and maintaining the highest standards for every client. If you're interested in changing your nose's appearance contact our Houston office today. Give us a call to learn more about how a rhinoplasty can benefit you. Or fill out the appointment request form right on this page. Our friendly and helpful staff will respond to you quickly.