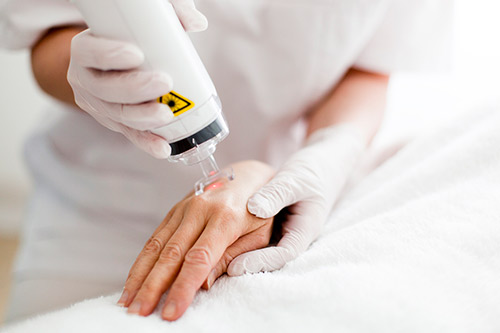 When you want to regain a youthful look by reducing the appearance of wrinkles, brown spots and sun damage, a non-surgical skin rejuvenation procedure called fractional CO2 laser treatment can help.
In this blog, Dr. Cecil Yeung at the Yeung Institute explains what CO2 laser resurfacing is and what is involved.
What is CO2 laser resurfacing?
CO2 laser skin resurfacing uses beams of light that are focused on the skin's surface. Each pulse of the laser sends short and concentrated light energy at the areas being treated to remove unwanted or damaged skin.
The CO2 laser beam removes the outer layer of your skin, while at the same time it heats the underlying skin. The heating action helps your body develop new collagen fibers. As the treated areas of your skin heal, the new skin that forms is smoother and firmer.
What is involved with CO2 laser resurfacing?
It's important to have your CO2 laser resurfacing performed by a board certified cosmetic surgeon. Without the education and experience of a plastic surgeon, who knows how to use the laser properly, having laser resurfacing performed can be dangerous.
You also need a doctor with training and qualifications in facial plastic surgery, who also has specific experience with this type of procedure, such as Dr. Yeung in Houston. Dr. Yeung is a double board certified plastic surgeon in cosmetic and reconstructive facial surgery.
How does CO2 laser resurfacing work?
A CO2 laser precisely eliminates thin layers of skin with the least possible damage to your surrounding tissue. In the skilled hands of a facial plastic surgeon, the use of a fractional laser helps speed the healing process.
A CO2 laser resurfacing treatment uses pulses of light that delivers a column of energy that stimulates a natural renewal process of your body's own collagen. Since the laser beam is fractional, small areas of untreated skin are left between the treated spots.
Who is a good candidate for CO2 laser resurfacing?
People with the following types of skin issues are good candidates for CO2 laser resurfacing treatments:
Fine lines or wrinkles around the eyes, forehead or mouth
Acne or chickenpox scarring
To improve the appearance of skin after a facelift
Aged or sun-damaged skin
Liver spots
Birthmarks
To improve facial complexion if it has yellow or gray skin tones
Warts
To reduce enlarged oil glands on the nose
Why choose Dr. Yeung for your CO2 laser resurfacing treatment?
Dr. Yeung is a specially trained skin rejuvenation provider and plastic surgeon with more than 20 years experience. Dr. Yeung has the knowledge and skills for using precision tools, such as fractionalized lasers, to treat the small areas of your skin, as well as to know what areas of your skin should be left untreated. This targeted precision ensures that Dr. Yeung delivers the safest and most effective treatment results along with an accelerated healing process.
Your procedure will be performed at the Yeung Institute's state-of-the-art cosmetic and plastic surgery center in Houston. At the Yeung Institute, you'll receive exceptional, expert care in a luxurious, private and comfortable setting. Our friendly and helpful staff will help you feel right at home.
Call our office today at 713-795-4885, or use our convenient contact form to learn more about how Dr. Yeung can help you achieve a more youthful, wrinkle-free and smoother facial appearance. You can also get started by filling out the appointment request form right on this page to schedule your CO2 laser skin resurfacing and tightening treatment.