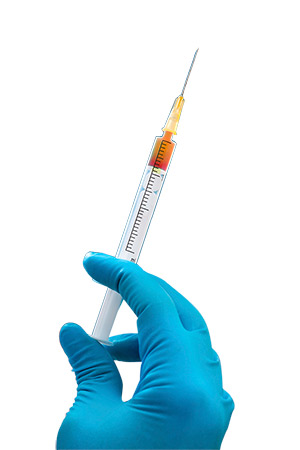 Deep creases and wrinkles that have formed on your face can make you look older, angry when you're not, or tired even after you've had a good night's sleep. Frown lines between the eyes can make you look stern or angry. Crow's feet wrinkles around the eyes can add years to your face. Forehead lines and creases between your brows are some of the most noticeable signs of aging.
As you use your facial muscles for expression, eating, and talking, your muscles expand and contract, making lines and furrows more pronounced. A minimally invasive, short procedure that improves wrinkles and gives a more youthful appearance is Botox injections.
What is Botox?
BOTOX is a medication that your healthcare provider injects into facial muscles to temporarily smooth the appearance of forehead lines, crow's feet, and frown creases between the eyebrows. Botox stops the nerve signals that tell your facial muscles to contract and expand which gives your face a smoother, younger looking, more friendly and less tired look.
You're a good candidate for Botox when you want to reduce or eliminate the appearance of:
Vertical lines between the eyebrows
Forehead furrows
Crow's feet around the eyes
Chin wrinkles
Vertical neck cording
Smile lines around the mouth
What is involved?
Your Botox procedure takes only about 10 minutes, and there is no recovery time involved.
Botox works well because it's injected directly into specific facial muscles that create the lines and wrinkles you want to eliminate. When Botox is injected into targeted facial muscles, its purified protein blocks the signals that control the contraction.
You may begin to notice results within 24 to 48 hours for moderate to severe frown lines with results lasting up to 4 months. Within one week, you'll notice that your wrinkles and creases start to fade away. That's because your muscles can no longer repeatedly tighten which caused the wrinkles to become embedded in your skin.
Since results are temporary (a few months), to maintain your youthful look, follow up appointments will be needed.
What can I expect?
The Botox Procedure:
A local anesthetic or a numbing cream may be applied before the injections are given.
There may be some minimal discomfort from the shot, but injections are typically painless.
The entire procedure takes anywhere from a few minutes to 20 minutes.
Dr. Yeung first chooses the correct injection points in the muscles (not the wrinkles) and marks them.
The Botox medicine is then injected into the marked points beneath the skin via small, fine needles.
You'll go back to your normal daily routines immediately.
Contact the Yeung Institute Today for Botox Treatments
Botox should only be injected using sterile instruments in a doctor's office or at a licensed medical facility. It's not recommended to go for "bargain Botox" deals which are often misleading and potentially unsafe offers. Fake Botox is also a dangerous risk when you don't use a doctor's office.
Stay safe by using a facial plastic surgeon who is educated in facial anatomy and can analyze the placement of Botox injections, knows how to formulate safe doses, and who can help you achieve the look you desire in a safe and sterile environment.
Dr. Yeung, a board-certified plastic surgeon in Houston, is well-known for his technical precision, minimally-invasive techniques, and results-oriented attitude.
If you desire a more youthful, refreshed and wrinkle-free facial or neck appearance, contact our Houston office today to learn more about Botox injections. You can also get started on a rejuvenated look by filling out the appointment request form on this page.