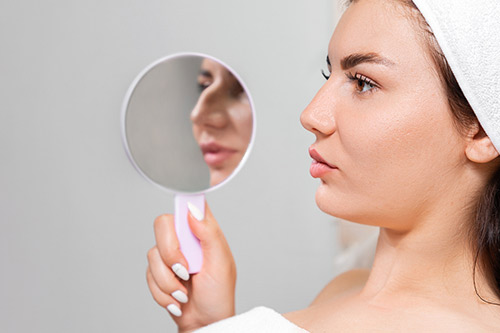 A rhinoplasty, commonly known as a nose job, enhances the contours, size and proportions of the nose, restoring facial balance. Any breathing issues, which are caused from irregularities in the shape of the nose, can also be corrected.
The nose is the center of your face, and is one of the first things people see when they look at you. If you're unhappy with the shape or size of your nose, a rhinoplasty can help to improve your appearance.
It's important to choose the best nose job surgeon to make sure you get the results you want. In this blog post, double board certified plastic surgeon Dr. Cecil Yeung will explain how to find the best nose job surgeon in Houston.
What is a nose job?
Your nose is the center of your facial appearance, and it also defines your profile. If it is too large or small, or has a non-symmetrical shape, it greatly influences how you look to yourself and others. A nose job is a cosmetic procedure that changes the appearance of your nose, and it can help boost your self-esteem in the process.
Why is a nose job performed?
A rhinoplasty re-contours the nose to your individual desires and needs.
When the nasal structures are reshaped (bone, cartilage, and skin) the changes your plastic surgeon makes can:
Straighten bends in a nose
Flatten bumps in the bridge of the nose
Decrease the size of an overly projecting nose tip
Smooth down the shape of a protruding nose tip
Change the angle of the nose tip in relation to the lips
Reduce the width of a nose to improve its proportion to the face
Reduce the overall size of an overly large nose
Correct oversized or upturned nostrils
Lift a drooping nose tip that has lost support due to ageing
Repair symmetry to a nose that has suffered injuries
Fix breathing problems by correcting blocked nasal passages
Fix breathing problems by aligning the nose to correct a deviated septum
Where can I find the best nose job surgeon in Houston?
Cecil Yeung, MD, FACS, is one of the most experienced rhinoplasty surgeons in the Houston, TX area. His reputation for effectively using minimally invasive and precise surgical techniques, which produce the most natural-looking results with shorter downtimes, makes him a frequent choice for nose job surgeries.
Dr. Yeung regularly performs the best nose jobs. Take a look at the excellent results he achieves for his patients using his extensive experience and meticulous surgical techniques.
What's involved with a nose job?
Dr. Yeung can perform two types of rhinoplasty, depending on your personalized needs:
An open rhinoplasty, which uses a small incision under the tip of the nose.
A closed rhinoplasty where no incisions are made on the exterior skin of the nose. All of the incisions are placed inside the nose.
When you are seeking a rhinoplasty that corrects a previous one, it can be more complex and may require a cartilage graft to shore up support in your internal nasal structures. This usually is needed if there isn't enough cartilage before the revision surgery.
What can Dr. Yeung do for your nose?
Dr. Yeung takes as much time as needed to discuss the realistic expectations of your rhinoplasty to ensure it's clear what the goals of the surgery are, and that you achieve the results you want.
For the majority of clients, nose job procedures are performed at the Yeung Institute's onsite, ultramodern, fully accredited surgery center. You'll receive outstanding, first-class care in a deluxe and well-appointed atmosphere that also gives you privacy and comfort. Dr. Yeung's caring and compassionate staff attends to your every need.
If you're interested in changing the shape or appearance of your nose, contact our office today or call our office to learn more about rhinoplasty. You can also get started by filling out the appointment request form right on this page. We are happy to answer all of your questions.