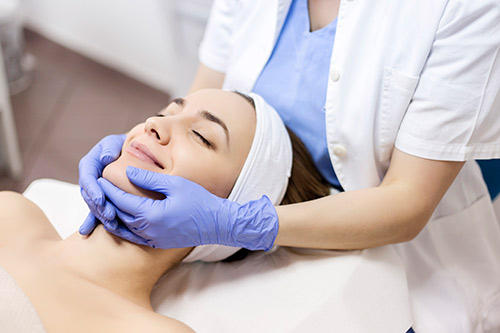 Whether you're planning for a special anniversary, giving a "just because" gift, or getting a jump start on your holiday shopping, you want your gift for your spouse to be memorable and special. Giving your spouse the gift of facial rejuvenation is sure to check all of the boxes.
But how do you know which treatment is right for your spouse? Dr. Cecil Yeung and our team here at The Yeung Institute, know that choosing the right facial rejuvenation procedure among the many options isn't always easy. That's why we've created this guide to help you on your gift-giving journey.
Explore all of your facial rejuvenation options
Facial rejuvenation isn't a singular treatment. In fact, it's a category of restorative procedures designed to combat the signs of aging, reduce the appearance of wrinkles, restore a youthful appearance, and address other aesthetic concerns. But before you can choose one, it's good to know all of your options.
Here at The Yeung Institute, our team is happy to offer a variety of facial rejuvenation procedures, including:
We're happy to explain what these procedures entail and how we tailor them to each individual.
Consider your spouses' requests
One of the most important aspects of gifting cosmetic procedures is only giving them when your spouse has specifically mentioned (or hinted) at the desire to receive them. Giving a gift of Botox® injections to someone who hasn't mentioned it (or doesn't want it), for example, could send the wrong message.
Instead, follow these three tips for gift-giving success:
Select a facial rejuvenation procedure that your spouse has told you they would like
Don't schedule any procedure as a surprise — we always start with a consultation first
Find out if your spouse has any recurring treatments, such as Botox®
Facial rejuvenation services are popular gifts — the American Society of Plastic Surgeons estimates that 27% of women and 20% of men desire cosmetic surgery as a gift — because their effects last far beyond the initial unwrapping.
The takeaway: facial rejuvenation can be an enjoyable gift, but avoid gifting it unless your spouse has expressed interest in it.
Plan a private gift exchange
Maybe your spouse has pointedly asked for a facial rejuvenation service, but keep in mind that not everyone enjoys publicly discussing cosmetic needs. If your spouse is a private person and might be embarrassed by receiving a personal gift in a public setting (such as a big birthday party), give your gift when you're alone together.
Plan a date… for two!
While your spouse will likely need a consultation (unless they already see us for treatments such as dermal fillers and you're gifting touch-ups), consider making a date out of the appointment. Botox and dermal fillers are both nonsurgical options with minimal downtime. You can easily incorporate an appointment for Botox into a date.
Schedule a reservation for a nice lunch here in Houston, and then head to our office afterward.
Gifts that complement facial rejuvenation
If your spouse has their eyes set on a cosmetic surgery, consider adding one of these services to your gift. Not only do they complement your gift, but they ensure your spouse has the smoothest recovery 一 that is a gift unto itself!
These are just a few ideas of gifts that complement the more in-depth cosmetic procedures we offer:
Meal delivery services for the first month after surgery (or you can take over dinner duties)
Housekeeping services
Books and movies to occupy your spouse during their recovery period
New streaming subscriptions for the recovery period
Need more guidance? Don't hesitate to reach out to The Yeung Institute at 713-795-4885. We're more than happy to answer your questions and help you select the just-right gift for your spouse. You can also send us an email and we'll get your questions answered.